OWAA Conference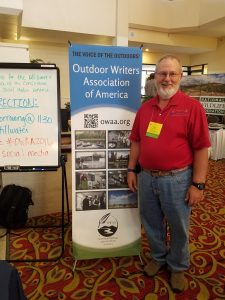 The Outdoor Writers Association of America held their annual conference in Billings, Montana the weekend of July 15th 17th.  Bob of Bob N' Jay's Adventures had an opportunity to attend.  This conference was attended by over 300 outdoor writers and photographers.  Some of these people have been writing outdoor articles for forty years and more, and some are just starting to try and break into this market as free lance writers.
"It was a great opportunity to meet with fellow outdoor writers, industry representatives, photographers and publishers," says Bob.
It was also an opportunity to expose some of the best outdoor writers to some of Bob N' Jay's stories.  Many of these participants commented on the example story that Bob N Jay provided, and with mostly positive remarks.
"I think I learned a lot from this conference," says Bob, "I got some great tips on writing and publishing that will really help Jay and I as we determine the best way to share our stories with other hunters and outdoorsmen.